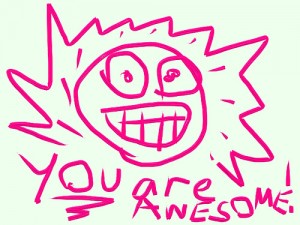 I came across a wonderful quote a few days ago, posted on the Positive Outlooks Facebook page, it read:
There comes a time when you have to stand up and say: This is me damn it! I look the way I look, think the way I think, feel the way I feel, love the way I love! I am a whole complex package. Take me… or leave me. Accept me – or walk away! Do not try to make me feel like less of a person, just because I don't fit your idea of who I should be and don't try to change me to fit your mold. If I need to change, I alone will make that decision. When you are strong enough to love yourself 100%, good and bad – you will be amazed at the opportunities that life presents you. — Stacey Charter
How many of us have felt this way?  We've felt the pull of others trying to shape us into the mold of whatever or however they deem we should be.  We've felt confused by these subtle (or maybe even blatant) cues, as they've bumped up against our growing knowledge of who we really are and the kind of life we want to live.
Somehow though, when we are on the receiving end of well-intentioned criticism, it's difficult to stand up and hold true to the words of the quote…'this is me damn it!'.  Instead, our self-confidence takes another little knock and we try to change into the person we think we should be, based on the ideals of others.  It can take many years, even a lifetime to realise and accept that we are worthy of being just who we are and that we don't need to be the person someone else thinks we should be.
This scenario can also play out when we've changed (for whatever reason), but others still want us to stay the way we used to be.  This can be an extremely frustrating experience.
A friend of mine, Amy, has worked for her company for a number of years and until fairly recently was making good progress up the corporate ladder.  Her various bosses throughout her tenure had encouraged her to grow and expand her talents and consequently she'd been able to successfully apply for promotions at appropriate times.
She's now been in her latest position for nearly four years and is ready to move on, but she complains (to me) that this doesn't appear to be part of her manager's plans for her and consequently she feels that her progress is being blocked.  She explains this as "being a victim of my own success…I've done a good job here and my manager is fearful that I'll leave and the good work may be undone…".
The irony of course is that Amy will leave and the company will lose an asset.  She's already looking outside the company for opportunities that fit her skill set and aspirations, although she's saddened by the attitude of her manager.
This is a clear example of someone wanting an individual to stay the same, to 'pigeon-hole' them as a particular type of person.  But we can no more make someone be someone who they are not and then hope to keep them happy than we can stop waterfalls from falling off cliffs.  Like water falling ever towards the sea, our true personality will find a way out.
So, if we balk at the idea of someone trying to tell us to live as they would have us live, are we then capable of sufficient compassion towards our fellow human beings that we do not in turn try to make them be the person we would like them to be rather than who they themselves want to be?  In other words, does someone else's value to us rest on the premise that our love or approval is conditional upon them being who we expect them to be?
It's the flip side of the coin, and a very uncomfortable proposition for most of us to accept, and yet we are probably frequently guilty of this behaviour.  Many times we will justify our actions as 'beliefs' that we are instilling better values into the person we love.  For example, teaching children 'right' from 'wrong', and whilst those children need our guidance, we have a duty to examine our own motives to ensure that such teachings are appropriate.
But how can we justify this when we are dealing with adults?  To what extent do we have any right to attempt to change the person in front of us?  Our partners, other family members or friends?  If we agree with the opening quote… "Do not try to make me feel like less of a person, just because I don't fit your idea of who I should be and don't try to change me to fit your mold…" which we surely do when it applies to ourselves, then in reality are we being judgmental and insincere in our (vain) attempts to change others to fit our preferred mold?  I think the clue to our behaviour is in the quote itself: "Do not make me feel like less of a person…" because in our attempts to change someone else, whether consciously or unconsciously, we believe that we are in fact trying to help them become a better person.
So that's a good thing…yes?
Well maybe or maybe not.  If we put it another way, are we actually attempting to change them so that they become a better person for us so they fit our needs better?  I think looking at it in this way makes us feel a little uncomfortable.  Of course, I'm not innocent of this having made various attempts over the years to have others fit my mold and only recently understanding why this has been disingenuous and ultimately futile.
No, the true path to achieving the changes we wish to see can only be achieved honestly and successfully through working on ourselves.  We must recognise our need to change others and then understand why that need exists within ourselves.  Then through hard work, we must seek to improve our own sense of self in order to alleviate the perceived change we wish to see in others.
This is a big ask of ourselves and possibly why it's easier to turn the need outwards and expect others to change, but the greater good will only be achieved through personal change and ultimately personal growth.
A sobering thought and a challenge to us all…
I hope you've enjoyed this post which has been an interesting topic to explore.  Please let me know your thoughts, I'd love to read your comments

Photo: Torley